We started Maria Brown Hearing Clinic to help people
We started Maria Brown Hearing Clinic to help people
I see helping people hear as my calling.
Making a difference and caring for people the way I felt they should be cared for is why I am here, and it's why I started this business.
Ever since my very first day as a hearing specialist over 20 years ago I have loved helping people hear. How I do it makes all the difference to how people hear. I drive myself to give the absolute best care, the best hearing aids, the best team. The big ask has been to make it affordable for everyone to see us because everyone should be seeing us.
The care you need is not about selling you hearing aids. You want your specialist to really listen to you and give you exactly what you need. That's what we do here. We listen better than everyone else. If we fail, you are isolated, out of touch with the world around you, it changes your life. You stop going out, family events become a nightmare because you just can't participate. That's unacceptable to us.
The one thing I personally promise all of my clients is that I will not stop until I help you hear.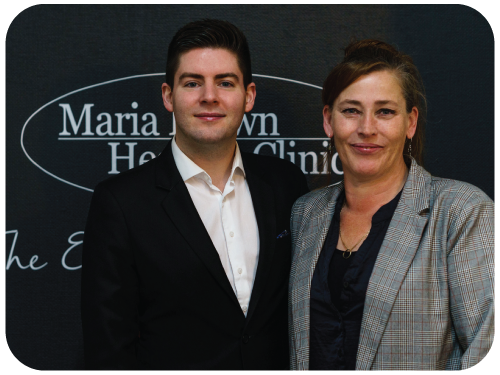 Maria Brown with her son Kevin Brown who both started Maria Brown Hearing Clinic in 2004.
Meet Maria Brown in our Q&A
Everything we do comes with a 100% satisfaction guarantee.
The hearing industry has been changing very quickly. In the past 10 years or so, the proliferation of technology into every corner of the hearing industry has brought with it large changes in the hearing care model. 
To meet these changes head on, our team challenged ourselves to better define what, why and how Maria Brown Hearing Clinic not only differentiates itself from our competitors, but how we get results. 
The result is the Maria Brown Hearing Clinic difference. A simple, nine-point guarantee to every client who steps through our door of who and what we are and how we guarantee success for you and your hearing regardless of your hearing care needs.