I see helping people hear as my calling.
Making a difference and caring for people the way I felt they should be cared for is why I am here, and it's why I started this business.
Ever since my very first day as a hearing specialist over 20 years ago I have loved helping people hear. How I do it makes all the difference to how people hear. I drive myself to give the absolute best care, the best hearing aids, the best team. The big ask has been to make it affordable for everyone to see us because everyone should be seeing us.
The care you need is not about selling you hearing aids. You want your specialist to really listen to you and give you exactly what you need. That's what we do here. We listen better than everyone else. If we fail, you are isolated, out of touch with the world around you, it changes your life. You stop going out, family events become a nightmare because you just can't participate. That's unacceptable to us.
The one thing I personally promise all of my clients is that I will not stop until I help you hear.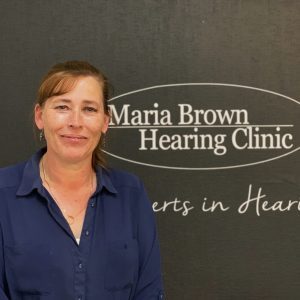 Maria Brown. Founder
aka. The hearing aid magic worker!
We have helped thousands of Tasmanians enjoy the gift of hearing once more
Helped over
Tasmanians hear again
Performed over
free hearing tests
Saving clients over
a year in running costs
Donated over
hearing aids to charity
There are four main areas we focus on to help our clients hear again
1. Providing honest, independent advice
For the past 14 years, Maria Brown Hearing Clinic has been a proudly independent hearing care provider.
The reason this is so important to us is because it allows us to not only provide honest advice to our clients, but it also gives us the ability to recommend one of the 10,000 different types of hearing aids available in the hearing industry.
This ensures only the best course of action and hearing aid is recommended every time.
2. Deliver hearing rehabilitation that works
Many people mistake hearing aids to be like glasses in that you simply put them on and off you go. This is very far from the truth.
Getting a successful hearing outcome from a hearing aid is just as dependent on the fitting and rehabilitation process as the hearing aid itself. To ensure the maximum outcome is acheived, we have designed a six to eight week rehabilitation process that is now guaranteed to work.
3. Protect our clients from failure
Everyone has heard a bad story about hearing aids. Cost too much, don't work, only sit in the drawer. When we started Maria Brown Hearing Clinic we did so with the idea that if we could not deliver a positive hearing outcome for the client, they should not have to pay a cent.
We call this risk free hearing.
We do this in two ways; first with a risk free 7 day trial of any hearing aid we we prescribe. The second is protecting every client with a full 60 day money back guarantee.
4. Make hearing care less expensive
We have taken several steps to help dramatically lower the cost of hearing aids and care. 
1. All of our ongoing hearing care is 100% included in the price at a saving of several thousand dollars.
2. Leveraged our large buying power allowing us to now guarantee the lowest price in Tasmania or we will beat it by 5%.
3. We have sourced every payment and finance option available with some starting from just $22 per week.
Click below to make an appointment or ask Maria a question today