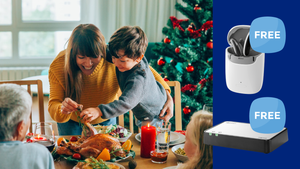 Hear your family for Christmas!
This December we are celebrating Christmas and the launch of the brand new hearing platform the AX from Signia.
We love this time of year with family, friends and loved ones coming together. It is however a difficult period for sufferers of hearing loss. To encourage people to get the most out of seeing family and the people we care about we wanted to do a special something for our new and returning clients with a super Christmas special!
The first 10 people who purchase any of the AX from Signia range of hearing aids (any technology level) before Christmas will receive a free TV streamer and free portable charging case valued at over $1000.
Simply call 1300 797 519 to book in at our Hobart, Lindisfarne or Launceston offices to have a free 7 day trial and hear your family for Christmas.
---